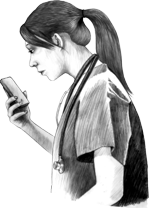 In a January 5, 2010 story on National Public Radio -- Atul Gawande's 'Checklist' for Surgery Success -- Dr. Gawande observes that experienced practitioners are at first resistant to using checklists:
"You can imagine the response" to the idea of running through a checklist before surgery, Gawande says. But when his team surveyed the doctors who used the checklist, "There was about 80 percent who thought that this was something they wanted to continue to use. But 20 percent remained strongly against it. They said, 'This is a waste of my time, I don't think it makes any difference.' And then we asked them, 'If you were to have an operation, would you want the checklist?' Ninety-four percent wanted the checklist."
The trend is undeniable. USA Today on January 27, 2010, in an article entitled Top surgeon Atul Gawande urges doctors to use 'The Checklist' touts Gawande's new book, The Checklist Manifesto (Metropolitan Books, $24.50) and says,
...medicine today is so complex that even the sharpest doctors can no longer keep everything they need to know in their heads.
Of course, the same is true for nurses. Lists like these really work. Word is getting out. NurseMind's time has come.